Mesmin Destin
Associate Professor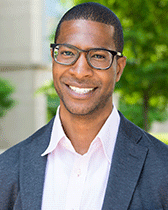 847-467-2824
Annenberg 203
Research Interests:
I study the ways that socioeconomic environments influence cognition and motivation. I draw particular focus to young people's perceptions of resources and opportunities, which can guide their identities, everyday behaviors, and educational outcomes. This work includes laboratory research, field experiments, and assessments of social psychological interventions including participants from diverse socioeconomic backgrounds.
Selected Publications:
Destin, M., Rheinschmidt-Same, M., & Richeson, J.R. (2017). Status-based identity: A conceptual framework integrating the social psychological study of socioeconomic status and identity. Perspectives on Psychological Science, 12, 270-289.
Browman, A. S., & Destin, M. (2016). The Effects of a Warm or Chilly Climate Toward Socioeconomic Diversity on Academic Motivation and Self-Concept. Personality and Social Psychology Bulletin, 42, 172-187.
Oyserman, D., Destin, M., & Novin, S. (2015). The Context-Sensitive Future Self: Possible Selves Motivate in Context, Not Otherwise. Self and Identity, 14, 173-188.
Stephens, N. M., Hamedani, M. G., & Destin, M. (2014). Closing the social class achievement gap: A diversity education intervention improves first-generation students' academic performance and all students' college transition. Psychological Science, 25, 943-953.
Destin, M., Richman, S., Varner, F., & Mandara, J. (2012). "Feeling" hierarchy: The pathway from subjective social status to achievement. Journal of Adolescence, 35, 1571-1579.
Destin, M., & Oyserman, D. (2010). Incentivizing education: Seeing schoolwork as an investment, not a chore. Journal of Experimental Social Psychology, 46, 846–849. 
Destin, M., & Oyserman, D. (2009). From assets to school outcomes: How finances shape children's perceived possibilities and intentions. Psychological Science, 20, 414-418. 
Back to top