Almaz Mesghina
Assistant Professor of Instruction; Weinberg College Adviser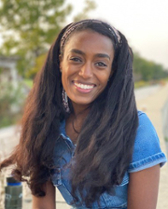 847-467-1946
1908 Sheridan
Research Interests
My research interests lie at the intersection of cognitive psychology and educational psychology. I am particularly interested in understanding the cognitive mechanisms that underlie choking under pressure in the classroom. I explore how phenomena like stress and anxiety disrupt (or promote!) our capacity to engage in deep learning, and I also design classroom interventions to help offset any detrimental impacts of such negative affective experiences on learning. 
Selected Publications
Mesghina, A. & Richland, L. E. (2020). Impacts of expressive writing on children's anxiety and math learning: Developmental and gender variability. Contemporary Educational Psychology, 63. https://doi.org/10.1016/j.cedpsych.2020.101926
 
Lyons, E. M., Mesghina, A. & Richland, L. E. (2020). Paradoxical gender gaps in mathematics achievement: Pressure as key. Proceedings for the Forty-second Annual Meeting of the Cognitive Science Society (p. 206-212). 
Back to top